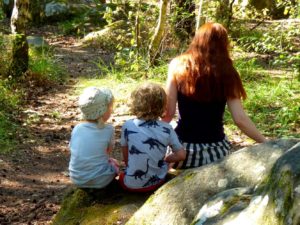 Penny studied Art at high school but didn't immediately begin to work as a full time artist.  She first graduated in Physics at Birmingham University and then worked as a developer for various computer companies before becoming the web development manager for a large firm in London.
While this was going on she continued to paint whenever possible. Finally, one day, when the time seemed  right,  Penny became a full time artist.
Penny lives in Reading, Berkshire, England and is an exhibiting member of the Reading Guild of Artists.
*********
Who is Mike ?
I am Penny's dad and I am helping her to maintain her website.  My interests in photography and in web design mean that in can carry out some of those jobs and leave Penny more time to paint.
Mike
Its in the genes?
It seems quite possible that the artistic genes arrived by way of two sisters, Penny's Grandmother, Jean Fullalove, and her Great Aunt, Mollie Townsend. Apart from painting, Jean was a fashion artist in the days before photography took over and a writer and illustrator of children's books. Mollie was still painting at the age of 97 and recently held an exhibition of paintings and sketches spanning a 70 year career.